The Harrell Team realizes that moving can be very taxing on a family. In addition to allowing you to search our currently available rental properties, we have placed the Rental Process Instructions and Application Form here for easy access. This will help you streamline your moving experience.
Please complete the application at your convenience. You may then email, fax or deliver the application to our office. Once the application is received, the rental process will begin immediately.
Click HERE to review our current rental properties.
Click HERE for our full rental application process document.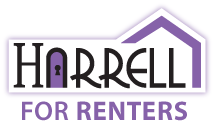 Click HERE for our rental application.
Rental Application Process & Instructions:
Completely fill out the rental application, leaving no blank spaces.

We will complete credit, eviction and criminal checks.

Current and previous landlords may be contacted for references.

Employment verification should be included with the application, i.e. last pay stub, tax statement or bank statements.

References are contacted as needed. If you are aware of any potential problems, please put in writing the details of that situation to help clarify the circumstances.

Owners are contacted for final approval and all decisions relating to the property.

Once the owner approves the application, any pending applications for the same property will be notified that the property is no longer available.
Required Items
$50.00 APPLICATION FEE PER PERSON OR PER MARRIED COUPLE

COMPLETED AND SIGNED APPLICATION BY ALL APPLICANTS OVER THE AGE OF 18

COPY OF DRIVER'S LICENSE

EMPLOYMENT VERIFICATION
NO PERSONAL OR BUSINESS CHECKS WILL BE ACCEPTED FOR INITIAL PAYMENTS OF SECURITY DEPOSIT, PET DEPOSIT, OR FIRST MONTH'S RENT. We do not accept credit cards or wires for any fees, deposits or rents.

MONEY ORDER OR CERTIFIED FUNDS ONLY.
Upon Approval:
Applicant must give holding funds equal to the amount of the security deposit in order to take

the property off the market. (Certified funds only.)

Pay lease prep fee of $60.

Prior to Move In:
Sign Lease Agreement

Pay first month's rent and last (if required) and any remaining fees

*If moving in the middle of the month, first month's rent is required in full as well as the pro-rated amount for the partial month. All rents are due on the first day of the month.