Here are some tips that can help you get the best deal when it's time to make an offer on a home.   No matter what your strategy is, you should have a very good idea of the home's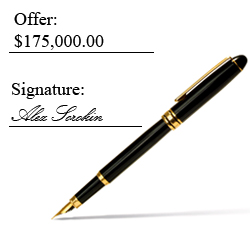 market value before you make an offer
Tips on The offer itself..
What Price to offer:
The Low Offer. "Low Balling": Be realistic, some seller's take a lowball offer as a personal insult and may not be as anxious to deal with you on your next offer.  That's fine if low is all you'll go, or if the property is truly overpriced, but it can create problems with future negotiations.
Being generous: Come in too high and you may not find the seller's low point.
Helpful Advice from your Agent : One area I can help you is to provide you with enough information and advice to assist you in determining the best price to offer. I can run comparables for you, and will be involved in offer strategies.
Asking prices: Advertising gives you a feel for average asking prices, but your focus should be on sales prices. You'll find them on multiple listing recaps of sold properties provided to you by your Realtor.
Should You Have an Appraisal?
You are certainly allowed to do that. The down fall is if your offer doesn't get accepted you have spent money erroneously. As well, the lender you are using for your mortgage typically will not accept your appraisal. So if you decide to order an appraisal before making the offer, make sure the results will not be shared with others (and keep in mind that opinions from different appraisers will most likely vary).
What about tax values?
Tax valuations are not a good measure of a property's market value. The general guideline is taxes are based on sales price. Please see my area on Taxes and You for how to calculate your tax base. Ask your local tax assessor for details about your specific area or go to their website.
http://www.brevardpropertyappraiser.com/
Take a look at a home's tax value, but never assume it matches the market value of the property.
Other factors that affect price
How long has the house been on the market? If only a short time the sellers might not too motivated.
How does the house compare with others for sale in the same neighborhood?
Is the house in need of repairs or massive updates? Updating items such as insulated windows, plumbing and electrical systems, kitchens, and baths can be costly.
How much time is left in the roof?
What about the neighborhood, do you foresee home values climbing, staying the same, or possibly taking a downturn?
Keeping good notes as you view the home will help you prepare the offer with the most comprehensive information possible.
Ask for the seller's disclosure. Typically we will ask for this disclosure from the listing agent prior to the offer being made. This will tell us what type of repairs and conditions are present or have been in the past. Analyze each home's condition and compare it to others on the market, but your final offer will likely involve a good deal of gut instinct.
Is it the house for you? If you've been searching for a home for awhile, you will probably know the answer to that question the minute you walk in the door.