Home inspections are accomplished as part of the process after the contract terms have been accepted. The timing of the inspections is determined before the final purchase contract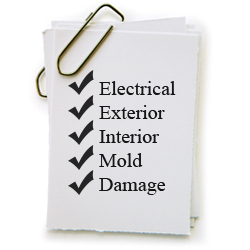 is signed. In other states, inspections take place after an offer is finalized. No matter when you do them, it's critical to decide which inspections and tests you want to perform at the time of the contract. THEN make sure you get them completed within the time frame stated in the contract.
Talk with your real estate agent or other advisor to find out when inspections should be handled and if additional types of testing are important for your specific purchase.
A home inspection will look at the systems that make up the building such as:
• Structural elements, foundation, framing etc
• Plumbing systems
• Roofing
• Electrical systems
• Appliances
• Windows & Doors
• HVAC
• Hot Water Heater
• Cosmetic condition, paint, siding etc